Your kit can be picked up from us or your kit can be dropped off with prior arrangement. Payment can be made prior to pick up. Email
meterboxlock@gmail.com
for banking details or call Shaun
0416044420
. View the
latest price
for DIY meter box kits
CALL NOW TO LOCK YOUR METERBOX
Meterbox Lock supply the best DIY kits to lock your meterbox yourself and save some money. No plastic Chinese rings for windows like other kits. WA made and made strong to last in our harsh sun.
Your kit includes:
Full instructions for either WOODEN or METAL meterbox.
1x (WAS) LOCK or Western Power Lock.
2x matching keys that are master keyed to ATCO or Western Power meter readers.
1x Meterbox Lock water seal, No one else offers this.
1x Galvanized metal backplate, predrilled and super strong.
1x 3mm polycarbonate plastic viewing window. Will not shatter like glass.
4x Vandal Proof Screws. Once fitted these screws cannot be removed.
1x Handy keyring for keeping your keys organised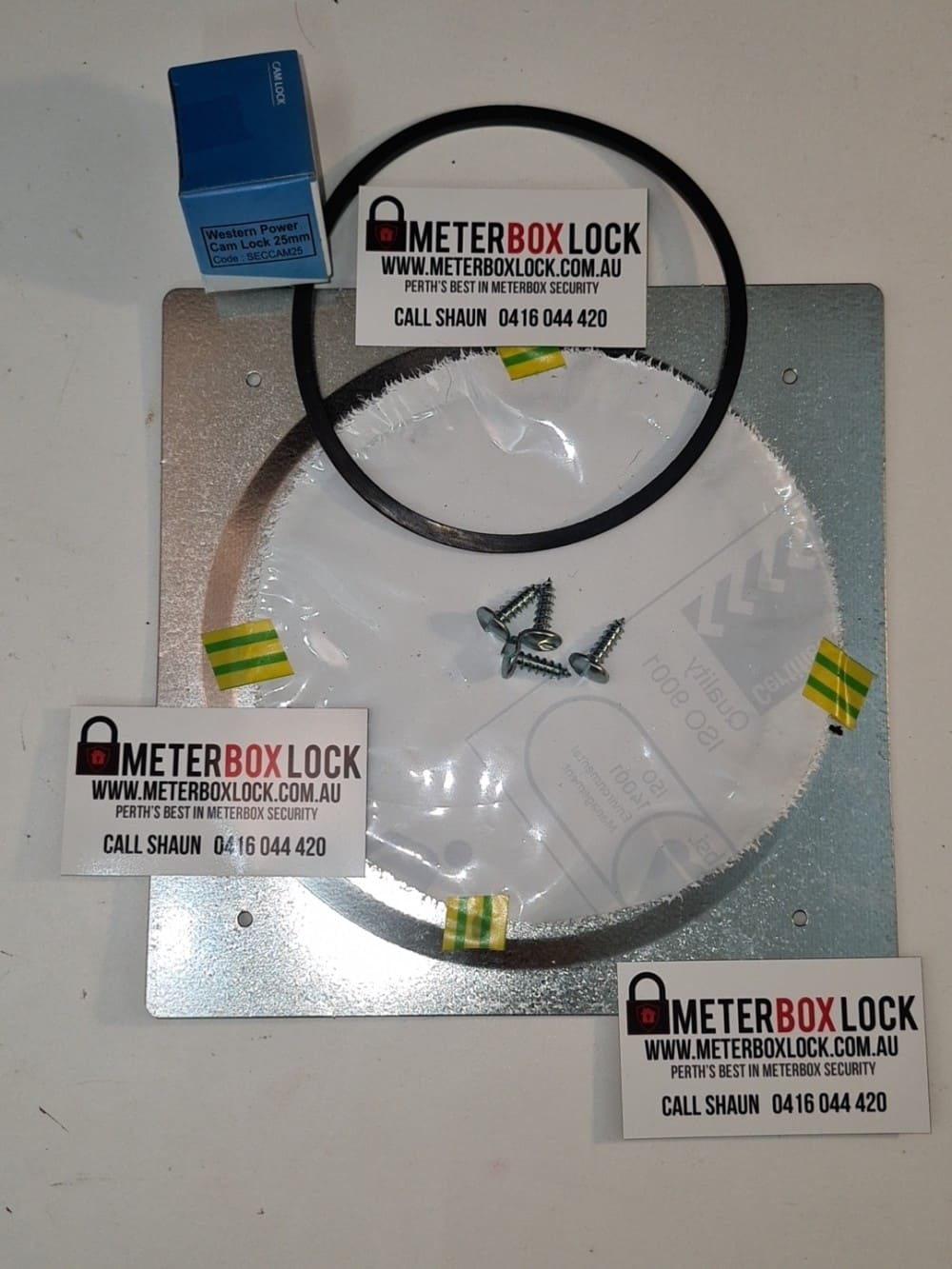 You will receive a solid, unbreakable DIY kit from Meterbox Lock to secure your meterbox.
What is the difference between Meterbox Lock and other DIY kits?
NO PLASTIC rings are used as they become brittle and break within a year.
OUR WATER SEAL hides any sharp or uneven edges you make from cutting the hole. The seal will make your install look great. The water seal keeps water out and covers the exposed metal edge preventing rust from forming. Only Meterbox Lock offers this seal, and it gives a slim finished look to your job.
DIY WINDOW AND WATER SEAL
Meterbox Lock make the strongest and longest lasting viewing windows available. They are hand assembled using locally sourced products. Keeping business in WA. These windows are made using a 1mm Galvanized Metal backplate. Predrilled for easy installing. Attached with sealant to a 3mm Poly Carbonate clear disc that's sun resistant and will not shatter like a glass window. The window is not complete without our unique water seal that only we can offer. It's essential to hide the sharp edge from cutting and stops rust, water and insects entering your meterbox. It completes the look giving your window a neat and slimline finish. Windows can be picked up from us or posted to you. Call Shaun 0416044420 or meterboxlock@gmail.com